By
Ospconsultants
We at Ospconsultants all you need to know VNO License Registration Process, Validity, Eligibility, Guidelines, Documents, Processing Fee, Bank Guarantee Registration Process and How to Apply!
What is a VNO License Registration?
VNOs (Virtual Network Operator) are treated as extension of NSOs (Network Service Operator) or TSPs and they would not be allowed to install equipment interconnecting with the network of other NSOs. VNO license is more cost-effective when compared to UL (Unified License).
Simply you can say it's kind of Telecom Services License where you can Resale the Telecom services without putting network Infrastructure such as dark fibers, Right of Way, duct space, and towers etc.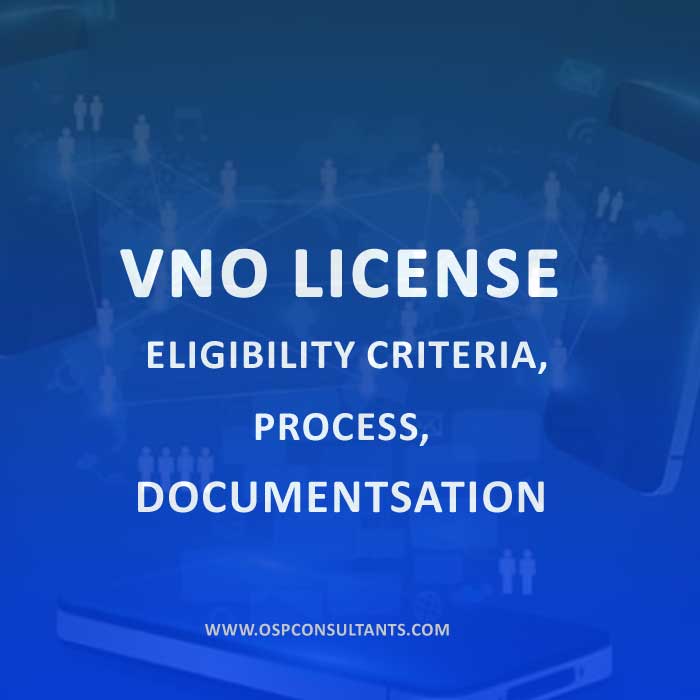 Who VNO License Authority ?
NO License Registration is issued by the DoT (Department of Telecommunication) of the Ministry of Communications India. More brief about the Department of Telecommunication visit to dot.gov.in
VNO License Validity
The Unified License (VNO) shall be issued on non-exclusive basis, for a period of 10 years. However, depending on technological developments and experience gathered, this duration of license may be reviewed after 4-5 years.
List of Services Authorization(S) Under VNO License
Under the Unified License VNO below List of services Authorization(S) can be get for VNO License Registration:-
Unified License (All Services)
Access Service (Service Area-wise)
Internet Service (Category-A with All India jurisdiction)
Internet Service (Category-B with jurisdiction in a Service Area)
Internet Service (Category-C with jurisdiction in a Secondary Switching Area)
National Long Distance (NLD) Service
International Long Distance (ILD) Service
Global Mobile Personal Communication by Satellite (GMPCS) Service
Public Mobile Radio Trunking Service (PMRTS) Service
Very Small Aperture Terminal (VSAT) Closed User Group (CUG) Service
INSAT MSS-Reporting (MSS-R) Service
Resale of International private Leased Circuit (IPLC) Service
M2M Services
Eligibility form VNO License Registration
To Apply the VNO License it is mandatory to applicant must be an Indian company, registered under the Indian Companies Act, 2013. Also partnership firm or an organization registered under Shop and Establishment Act or a legal person can apply that UL-VNO License for Access Services Category B only.
Documents Required for VNO License Registration
The Following documents are required for VNO license registration:
Copy of Company Registration Certificate.
Company PAN
Articles of Association.
Memorandum of Association.
Equity Details Certificate.
Certificate from Company disclosing the status of Foreign holdings.
Net-worth Certificate.
Paid-up Capital Certificate.
VNO License Registration Process
Fill out the VNO License application form.
Upload the required documents.
Let the application be processed. The DoT will process the same
Receive the letter of intent (LoI).
Submit the bank guarantees & Entry Fee.
Signed the UL-VNO License Agreement
Get the VNO License.
Have a Queries or Need Expert Help?
A Expert professional (OSPconsultants) has 15 years of experience procuring license, registration process, documentation, uploading, etc. and remove the common errors and helping to clients and this expertise can help to save your time and money both for your business. Connect with Top VNO consultants who know the guidelines and understand your requirements then complete your license approval things.
How can we help as a VNO Consultants in India
Hiring an experienced consultant can help you save time and money both and get a VNO License without a hassle in stipulated time period.